If your home or office in Chicago, IL has experienced water damage due to flooding, a leaky roof or pipes bursting, then prompt attention to the damage is paramount. When there is extensive water damage, the water can seep into the floor, walls, cabinets, and wood fixtures leading to rot and decay. The formation of dangerous black mold, mildew and other bacterial microbes is inevitable if left unchecked.
As a leading mold removal company, our certified technicians will address your concerns promptly and professionally. We have extensive expertise in mold issues, and many people consider us to be the region's mold abatement experts. We are local and totally accountable for our work, and we are backed by an unmatched reputation for reliability of mold remediation and water damage restoration services done with the utmost level of integrity.
Mold Types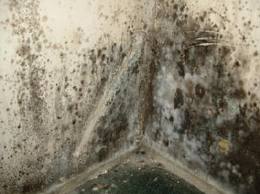 There are many types of molds. However, the most common one is black mold. Black mold colonies grow very fast, typically after 24 to 48 hours of excessive dampness in the walls and ceilings or after water damage. Black mold spreads through the air destroying floors, walls and ceilings. This will continue until the affected areas are treated and are left completely dry. If black mold is left unchecked, it can rapidly multiply and lead to serious health problems.
This is NOT a Do-It-Yourself project.
It is very difficult to entirely remove mold. Any residue will grow and multiply rapidly. Mold remediation is for licensed and experienced specialists using today's advanced equipment and technology.
Living in a home infested with mold can be detrimental to one's health. Black mold can stick to your lungs that can make you feel sick and the worst part is your immune system can break down. Most of us make the mistake of just cleaning the area with some bleach and painting it and before you know it, mold grows back and moisture becomes a bigger problem.
Inspection & Testing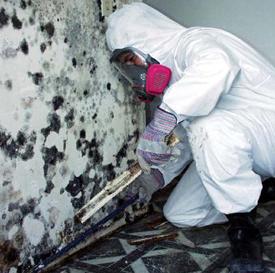 If you have experienced water damage or suspect the possibility of mold infestation, don't delay as this can lead to serious health problems. Contact us today so that we can implement scientific mold testing of your house, school, hospital or office. We can also coordinate with property managers to inspect apartments, commercial building or offices that they manage. Our mold inspection involves assessing whether mold spore counts are within standard and acceptable levels, after which we can schedule a time to remove any mold colonies if it is required.
Water Damage Restoration
Whenever you need immediate help about water damage, call our urgent emergency response team, which is always ready to respond and handle your moisture problem or water damage. If you delay, mold-related health issues can arise. We are committed to helping you during this stressful time.
We are specialized service providers who offer unequaled services at the best price in this region. In case of an insurance claim, we handle the paperwork and also take care of everything on your behalf.
If you feel like you may have a mold issue and would like an expert opinion or investigation, please give us a call. We'll talk with you about our remediation & clean up process, and answer any questions you may have…
Professional Removal & Remediation
To ensure that the mold threat is completely removed, we apply today's most technically advanced removal & remediation techniques. We are licensed professionals, and the leading specialists in the region. We find the hidden moisture that is commonly bypassed by other companies. Just a small number of mold spores that remain can lead to re-occurrence and the remediation process may have to be repeated. Don't let that happen. Call the mold experts now for a free consultation.
Services we provide:
Remediation
Removal
Testing
Inspection
For Expert Advise Call Us NOW! (312) 471-9422
Stop Mold Pros
727 S Dearborn Street #313
Chicago, IL 60605
Communities we service:
Chicago, Amf Ohare, Cicero, Oak Park, Berwyn, Forest Park, Elmwood Park, River Forest, Lincolnwood, Riverside, Hines, Evanston, Maywood, Lyons, Harwood Heights, River Grove, Bedford Park, Summit Argo, Broadview, Melrose Park, Brookfield, Hometown, Skokie, Evergreen Park, Burbank, Bellwood, La Grange Park, Stone Park, Franklin Park, Westchester, Oak Lawn, Bridgeview, Schiller Park, Morton Grove, Hillside, Park Ridge, Niles, Justice, La Grange, Berkeley, Wilmette, Chicago Ridge, Golf, Western Springs, Hickory Hills, Kenilworth, Alsip, Worth, Elmhurst, Des Plaines, Whiting, Blue Island, Willow Springs, Hinsdale, Palos Hills, Riverdale, Glenview, Winnetka, Glenview Nas, Bensenville, Oak Brook, Robbins, Palos Heights, Techny, Villa Park, Posen, Dolton, Willowbrook, Clarendon Hills, Midlothian, Wood Dale, Glencoe, Hammond, Palos Park, Westmont, Harvey, Addison, East Chicago, Calumet City, Lombard, Northbrook, South Holland, Mount Prospect, Oak Forest, Darien, Elk Grove Village, Downers Grove, Orland Park, Itasca, Hazel Crest, Prospect Heights, Thornton, Glen Ellyn, Arlington Heights, Medinah, Lansing, Highland Park, Homewood, Country Club Hills, Lemont, Wheeling, Glendale Heights, Woodridge, Tinley Park, Deerfield, Bloomingdale, Glenwood, Gary, Flossmoor, Lisle, Munster, Rolling Meadows, Roselle, Highwood, Schaumburg, Wheaton, Fort Sheridan, Highland, Olympia Fields, Chicago Heights, Bolingbrook, Carol Stream, Lincolnshire, Buffalo Grove, Palatine, Winfield, Matteson, Griffith, Hanover Park, Mokena, Lake Forest, Naperville, Hoffman Estates, Dyer, Richton Park, Lockport, Bartlett, Frankfort, Park Forest, Steger, Schererville, Lake Station, Warrenville, Romeoville, Long Grove, West Chicago, Streamwood, Vernon Hills, Fox Valley, Lake Bluff, New Lenox, Lake Zurich, Hobart, Portage, Merrillville, Barrington, Great Lakes, Joliet, Libertyville, Mundelein, Plainfield, Wheeler, Chesterton, Fox River Grove, Wauconda, Valparaiso, Island Lake, 46304, 46311, 46312, 46319, 46320, 46321, 46322, 46323, 46324, 46325, 46327, 46342, 46368, 46375, 46384, 46385, 46393, 46394, 46401, 46402, 46403, 46404, 46405, 46406, 46407, 46408, 46409, 46410, 46411, 60004, 60005, 60006, 60007, 60008, 60009, 60010, 60011, 60015, 60016, 60017, 60018, 60019, 60021, 60022, 60025, 60026, 60029, 60035, 60037, 60038, 60040, 60042, 60043, 60044, 60045, 60047, 60048, 60049, 60053, 60055, 60056, 60060, 60061, 60062, 60065, 60067, 60068, 60069, 60070, 60074, 60076, 60077, 60078, 60082, 60084, 60088, 60089, 60090, 60091, 60092, 60093, 60094, 60095, 60101, 60103, 60104, 60105, 60106, 60107, 60108, 60116, 60117, 60122, 60125, 60126, 60128, 60130, 60131, 60132, 60133, 60137, 60138, 60139, 60141, 60143, 60148, 60153, 60154, 60155, 60157, 60159, 60160, 60161, 60162, 60163, 60164, 60165, 60168, 60171, 60172, 60173, 60176, 60179, 60181, 60185, 60186, 60187, 60188, 60189, 60190, 60191, 60192, 60193, 60194, 60195, 60196, 60197, 60199, 60201, 60202, 60203, 60204, 60208, 60209, 60301, 60302, 60303, 60304, 60305, 60398, 60399, 60402, 60406, 60409, 60411, 60412, 60415, 60419, 60422, 60423, 60425, 60426, 60429, 60430, 60431, 60432, 60433, 60434, 60435, 60436, 60438, 60439, 60440, 60441, 60443, 60445, 60446, 60448, 60451, 60452, 60453, 60454, 60455, 60456, 60457, 60458, 60459, 60461, 60462, 60463, 60464, 60465, 60466, 60467, 60469, 60471, 60472, 60473, 60475, 60476, 60477, 60478, 60480, 60482, 60490, 60491, 60499, 60501, 60513, 60514, 60515, 60516, 60517, 60521, 60522, 60523, 60525, 60526, 60527, 60532, 60534, 60540, 60544, 60546, 60555, 60558, 60559, 60561, 60563, 60564, 60565, 60566, 60567, 60570, 60597, 60601, 60602, 60603, 60604, 60605, 60606, 60607, 60608, 60609, 60610, 60611, 60612, 60613, 60614, 60615, 60616, 60617, 60618, 60619, 60620, 60621, 60622, 60623, 60624, 60625, 60626, 60628, 60629, 60630, 60631, 60632, 60633, 60634, 60636, 60637, 60638, 60639, 60640, 60641, 60643, 60644, 60645, 60646, 60647, 60649, 60651, 60652, 60653, 60654, 60655, 60656, 60657, 60659, 60660, 60661, 60663, 60664, 60665, 60666, 60667, 60668, 60669, 60670, 60671, 60672, 60673, 60674, 60675, 60677, 60678, 60679, 60680, 60681, 60682, 60683, 60684, 60685, 60686, 60687, 60688, 60689, 60690, 60691, 60693, 60694, 60695, 60696, 60697, 60699, 60701, 60706, 60707, 60712, 60714, 60803, 60804, 60805, 60827